Coolsculpting
NOW OFFERING COOLSCULPTING
CoolSculpting in Cartersville
CoolSculpting is the popular fat reduction treatment intended for men and women who suffer from stubborn fat deposits that resist diet and exercise. Using advanced Cooling technology, CoolSculpting targets fat cells from notorious problem areas such as belly fat, love handles, thigh fat, upper arm fat, double chins and more. CoolSculpting is FDA cleared as safe and effective and is substantiated by numerous scientific studies.ⁱ Treatments are quick and painless and require no downtime,* making CoolSculpting the ideal, non-surgical alternative to liposuction. ​
Learn more about the #1 Non-Invasive Fat Reduction Treatment by calling Coolsculpting of Southlake at 770-386-4824 and take the first step towards a skinnier, more sculpted you!
YOUR COOLSCULPTING CONSULTATION: THE FIRST STEP
It's easy to get started in your CoolSculpting journey to a slimmer you.
Your CoolSculpting clinician will take the time to discuss a holistic approach to your goals for reshaping your body. Together, you'll look at your whole body from different angles—and then focus on specific areas where you want to eliminate fat.
Benefits of CoolSculpting
Safely & effectively reduces stubborn fat
Non-invasive with no downtime
Non-Surgical Alternative to Liposuction
Targets love handles, belly fat, thigh fat, double chins & more
Treatments are virtually painless
Non-invasive with no downtime
Results look natural and are long lasting
Define musculature and sculpt attractive curves
YOUR TREATMENT PLAN: CUSTOMIZED TO YOUR BODY

Cool Sculpting targets fat cells located below the skin's surface using a scientifically provenⁱ process known as Cryolipolysis. Without injuring the skin or surrounding tissues, Cool Sculpting exposes subcutaneous fat to controlled cooling, freezing a portion of the underlying fat cells. When fat cells are frozen they trigger apoptosis, or cell death. Over the span of several weeks the lymphatic system metabolizes the destroyed fat cells and excrete them from the body as waste.
Call for a complementary consultation
YOUR TREATMENT DAY: NO SURGERY. LITTLE TO NO DOWNTIME.
During your treatment, a gel pad and applicator will be applied to the targeted area. The CoolSculpting applicator delivers controlled cooling to the targeted fat. During your procedure, feel free to read, check email, or even take a nap.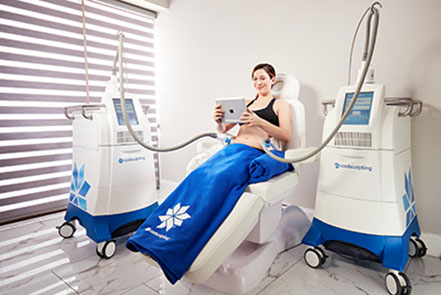 CoolSculpting Freezes & Eliminates Stubborn Fat
Fat Elimination After the CoolSculpting Procedure
Fat cells that are frozen during the CoolSculpting procedure gradually die off and leave the body through the body's natural elimination process. That's why the results are long-term. Untreated areas will have no change in fat cell distribution.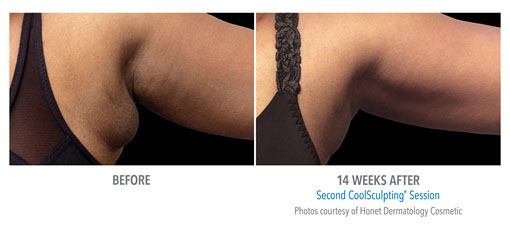 The science is proven. The technology is proven
AFTER YOUR TREATMENT
Most patients can return to their normal activities immediately after the CoolSculpting procedure.
While some patients may see results as early as 3 weeks after their first treatment, the most dramatic results are usually seen between 1 and 3 months following treatment.